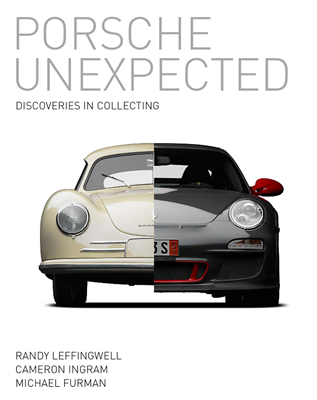 Porsche Unexpected:
Discoveries in Collecting
Many of us have been enamored with Porsche. It is a marque with extraordinary history, technological advances, and that unique combination of elegance and brute force. Many of us have also wanted a collection of Porsches, from the earliest Gmünd Coupe to the latest hypercar.
In Porsche Unexpected: Discoveries in Collecting, we will journey with Robert Ingram and his family as they fall in love with Porsche and create their own world-class collection of the marque. We learn that what started as an innocent trip to the Monterey Historics led to a familiarity with the marque to an intense relationship that attempts to quantify the Porsche experience from its earliest days to its future direction.
Porsche Unexpected is researched and written by Porsche historian Randy Leffingwell, and Cameron Ingram, the second generation of Ingram Porschefiles. After being mesmerized by the early 356 Speedsters, Cam created Road Scholars which has become one of the most respected Porsche restoration houses in the world.
This title will relate the Ingram family experiences as they began collecting, analyzing their efforts with those from major collectors who also jumped into car collecting. Porsche Unexpected will then delve into the collection which reads like an all-star list for any fan of the marque. From Gmünd Coupe to 550 Spyder, Speedsters, 356 Carreras, every variation of 911 – L, S, RS, SC/RS, Turbo, GT3 – and the 959 and Carrera GT supercars, this book is also a must-have for anyone interest in Porsche.